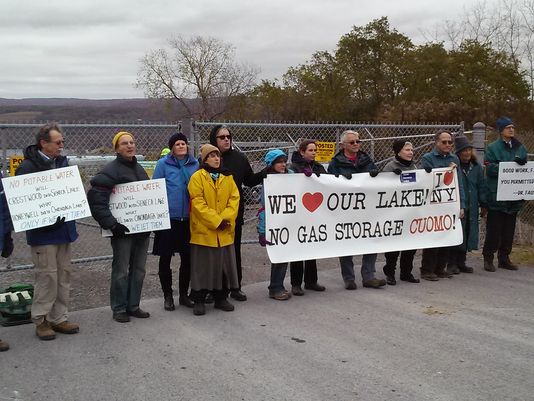 Frog's Way is one of over 200 local businesses that are committed to stopping fracking for natural gas in our area. We see this collective resistance as a way to save our air, soil, water, quality of life, and our emerging, sustainable local economy, so much of which is based on tourism, sustainable agriculture, wine, and education.
Recently, Elan, our owner (pictured above 2nd from left), was arrested blocking the entrance to a gas storage facility on Seneca Lake that is preparing to greatly expand its capacity. Since so many towns in New York State have been successful in creating bans on fracking locally, why would it be so important to violate the law just to stop expansion of an already functioning storage facility?
The answer is quite simple but not yet widely known. The gas and oil industry has decided that it is too difficult to bring fracking to upstate New York, but instead has plans to make the Finger Lakes region the gas storage and transportation hub for natural gas in the entire Northeast. And the impact of the possible leakages and explosions, increased pipelines, trucking, noise and air pollution, and gas related industries, would be almost as harmful for our ecosystems, economy and quality of life as fracking. To learn more and see how you can help, check out www.gasfreeseneca.com.  We'd also love to have you share your thoughts or questions below.
Photo courtesy of StarGazette.com.