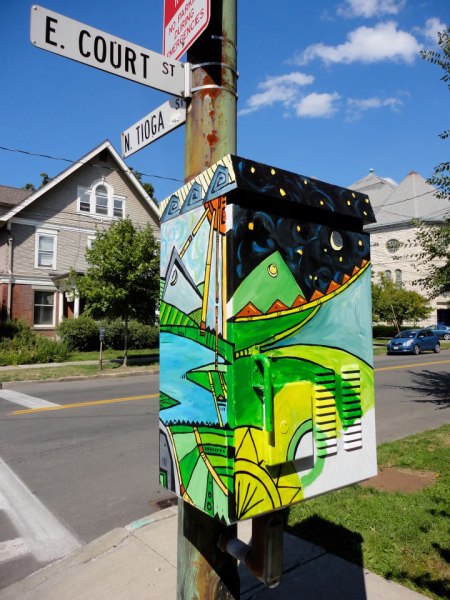 When asked what Ithaca is most famous for, many people would answer "gorges". And our gorges are indeed glorious and amazing natural works of art.
But Ithaca also has gorgeous art that is human-made. The first Friday of every month, on First Friday Gallery Night, you can visit local galleries and art houses showcasing local, national, and international artists. Consider, as well, the Ithaca Art Trail where you can choose from over 42 artists' studios to visit by appointment, on special open-studio weekends, & on First Saturday of the month events.
If you aren't here when the special events are taking place, you can visit our own home-grown urban art any day and any hour. Don't miss the 21 Boxes project! Local artists have been beautifying our electrical boxes all over town since 2012, and more boxes were commissioned and revealed this past summer. Now you can see 42 extraordinary and fun works of art! Check out this excellent article about the boxes and visit their Facebook page for more photos and a map of box locations.
Large murals on many of our buildings and parking garages are turning blank walls into wonders for the eye:
Alice Pasquini's murals
Kellie Cox-Brady's Rudbeckia hirta (black-eyed susan)
Meal and Roti Hang
Graffiti Art
The remodeling of our pedestrian Commons has been regrettably slow, but it hasn't stopped the boom in public art that makes walking about in this culture-rich town such a delight!
We'd love to hear what home-grown local art opportunities you have in your neighborhood. Leave us a comment!
photo courtesy of 21 Boxes Facebook Page