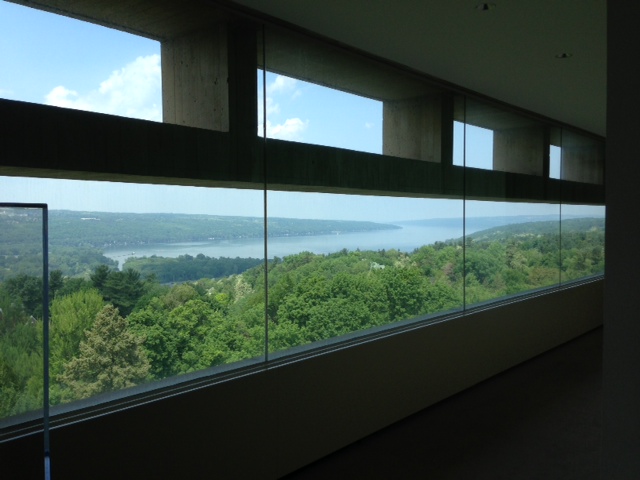 At Frog's Way, we provide our guests with a comprehensive collection of resources for local activities, including maps and trail guides you can take with you during your visit. (We have nature trails, wine trails, cheese trails, beer trails, ale trails, and more!) Each guest room features a resource binder plus magazines and local guides to current events and ongoing attractions.  And the good news is that so many of these opportunities are free, especially in the summer!
If you really want to "see" Ithaca while you are here, be sure to visit the free Johnson Museum of Art high up on the Cornell campus where you can get incredible 360-degree views of the area (a great way to start a visit, when it's a clear day), while you enjoy the peaceful, uncrowded museum environment. Or get the low-down view of beautiful Cayuga Lake and the creeks that feed into it walking along the Cayuga Waterfront Trail in Stewart or Cass Parks.
For something a little more lively, be sure to attend one of the free outdoor summer concerts  that happen several nights during each week.  One of our favorites is the Saturday evening series at Taughannock State Park where you can relax on the lawn next to the lake, perhaps with a picnic or after a swim right nearby, and enjoy the refreshing lake breeze while listening to great musicians.  Click here for a comprehensive listing of concert dates, times, and performers at the Ithaca Visitor's Bureau site.
 Header photo courtesy of http://philipkochpaintings.blogspot.com/