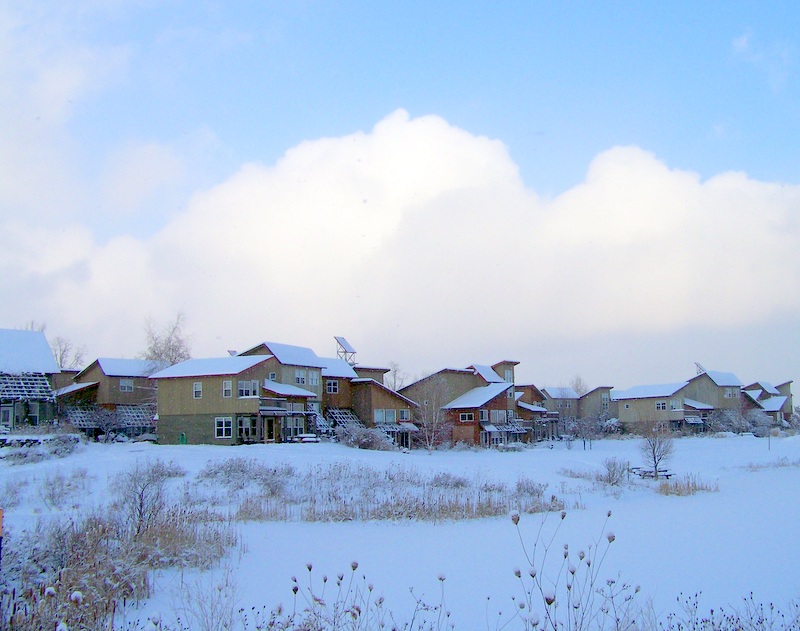 1. Warmth: Our radiant heat floors and super insulated walls makes the place feel really cozy and comfortable (check out this article on how Danes stay happy in the winter through Hygge).
2. Culture Galore!: Ithaca is an incredibly culturally rich community that has events, festivals, celebrations and performances running on a daily basis throughout the winter (click here for more info about our 2-week long Winter Festival).
3. Relaxation: Our renewable energy-powered hot tub runs year-round; relax under the stars on a cold winter night and listen to the music of the coyotes.
4. Recreation: Our miles of trails are great for cross-country skiing; and you can take off right from outside the B&B
5.Skating: Our swimming pond is great for skating! It has already been cold enough that it is starting to freeze-over.
6. Great Food: Besides our locally sourced and home grown breakfasts, you may want, one chilly night, to huddle up and not travel far for dinner. The common buildings for our first two neighborhoods, a minute or two by foot from the B&B, are great places to enjoy an inexpensive meal with mostly local and organic ingredients and a strong experience of our cooperative community.
7. Fun: Our nearby common building is also great for playing pool, ping pong, and enjoying a vast library of health, community, and sustainability resources.
8. Liberation: Free your mind from the hustle-and-bustle of daily life with a book or magazine from our extensive Library in every room of the B&B. Each bookshelf features inspirational entries about the Ithaca and the Finger Lakes , health and sustainability, nature and spirituality, positive futures, alternative lifestyles, and Good News. Slow up and snuggle up with a book!
9. Great Deals: During the colder months, our rates are discounted for most days and there are no minimum nights, even on weekends. Check out our deals here.
10. Special Yumminess We enjoy pampering our guests with special treats: enjoy the cozy comfort of the B&B while enjoying a platter of our homemade chocolate zucchini bread along with one of our excellent teas, coffees or our newly added home-made vegan hot cocoa mix.